Technical SEO
Technical SEO provides the foundation on which your site's performance can realise its potential
You may have great content and a cool aesthetic, but if your site has some technical SEO flaws that hinder search engines, your SEO performance will suffer. Whether it's project support, consultancy or hands-on management, the skilled technical team at greyzip can help support you with a wide range of technical SEO challenges. Investing your resource into content and marketing may seem like a good starting point, but having a great technical foundation is hugely important to SEO. Getting the fundamentals right removes the bottleneck that can impact how well your content performs in search engines, and in some cases, could prevent it from appearing entirely. Technical SEO is the bridge between marketing and development and is a specialism in its own right. Marketers lack the coding knowledge, and developers are often unfamiliar with search engine specifics. We are adept at working with both to ensure that our client's websites are easy for search engines to crawl and analyse.
Contact us
🥳
A position #1 listing on mobile receives just under 30% of click-throughs, which is roughly 50% more than a desktop #1 position.
🥴
Only about half of the top-ranking pages have reciprocal links.
🔥
Google searches generate no traffic for more than 90% of web pages.
Optimised Website Builds
---
Launching a brand-new website can really enhance a business and solve many marketing problems, but is also one of the greatest risks to SEO performance. We've helped many businesses through this process – from day one of the website redesign project right through to launch – and ensured they took their traffic with them when they migrated to a new website.
Targeting Global Markets
---
Successful international SEO is a mix of content and technical configuration. From designing a strategy tailored to target markets, and adapting content to the needs of customers in each, to ensuring search engines understand your site and drive visitors to the right version of your site, it's one of the more complex SEO disciplines.
Structure And Linking
---
The structure of your website, its crawlability and its internal linking, impact on how search engines perceive the content on your site. Good content can be undervalued and overlooked if it is difficult to reach. Duplicate content issues can spiral out of control without careful management. Our technical specialists can help you maximise the value of your content.
Search Engine Results
---
While much of SEO focuses on influencing Google to improve visibility, it's important not to forget the influence that good SEO has on the people using the search engine. How your website is displayed on the search result can win or lose traffic. We can help you identify what opportunities there are with your target audiences and how to capitalise on them.
Site Load Speed
---
A faster loading website results in better user engagement and increases conversion rates. In contrast, pages that load slowly are unlikely to rank as well in Google. The causes vary significantly from site-to-site – from server hardware to image sizes – and often requires an intense effort to resolve. We can show you how Google perceives your website and help ensure that best SEO practices are implemented.
Mobile SEO
---
It's no longer enough to tick the "responsive website" box and move on. A mobile-first philosophy is a must for most B2C brands – not only is mobile the most engaging medium for most consumers, it's often the only one. Google has taken this step, meaning that a brand that is not mobile-first is unlikely to be first to anything, whether that's frameworks such as Accelerated Mobile Pages (AMP) or technology that supports visual storytelling.
eCommerce
---
Retail websites present unique technical SEO challenges. They tend to be large and contain lots of similar pages for filtering and sorting products – great for users but, often, a headache for search engines. Higher resolution imagery and multimedia content is also more embedded in a users expectations. At the same time, there are opportunities to gain more from Google through its rich search features and Image Search that can be easily overlooked.
Voice Search
---
Optimising for voice search is one of the hottest topics in technical SEO currently. While it's true that there are opportunities for brands, cutting through the hype can be difficult. We can help you identify the commercial reality of how voice search will impact your brand and what you should be focused on.
Our technical SEO Plan
First, we conduct a full fat SEO audit, with each point being manually checked, in order to create the most effective search engine optimisation campaign. At the same time as this audit is being conducted, we will be identifying keywords and key phrases (along with search volume), and reviewing Google Analytics data to fully understand the existing and potential search audience. Third Party tools will be used to compare the current site statistics (such as the number of links, the amount of pages indexed, and domain authority) to the competition if we haven't already done so at the proposal stage. Competitors in search usually come in two varieties: those who rank highly in Google searches for the keywords that you wish to rank for, and those with whom you compete for sales through other channels of distribution. Additionally, we perform search engine results page checks for various ontologically-related key phrases in addition to auditing, keyword research, and competitor analysis in order to gain a comprehensive helicopter view of the industry. If you want us to run an SEO campaign in Colchester Essex, or the entire United Kingdom, our research work will be very similar regardless of the location (and thorough). In the event that thorough on-site, off-site, and industry research is carried out, this creates a great platform for SEO techniques to function more effectively from the start.
2. We Implement Technical SEO
Technical SEO, also known as "on-site optimisation," is responsible for making changes to the way a website is navigated by Google, how quickly it loads, and how easily each page can be understood both within and outside the context of a site menu system. This work is tedious, exhausting, and, to be honest, not very enjoyable, but it is critical to the success of a website, especially if, as is usually the case, a large number of errors are being corrected. A few changes to the HTML or metadata on a page template can have a significant impact on how well Google robots understand what the theme of a web page is actually about. When you multiply this by several hundred pages, you can see how quickly rankings and visitors can rise. In accordance with our previously mentioned audit, our SEO team ensures that all online ranking factors are corrected, including checking things like broken links, mobile responsiveness, conversion tracking, and local SEO factors, among other regular checks for the number of pages indexed and inbound links, among other things.
We'll show you amazing rankings in Google's search engine results pages if you show us a website with excellently written, long form content on every page. Content and SEO are inextricably linked – and to us, they are one and the same. In many cases, when we suggest that "two thousand words be added to the homepage," our suggestions are met with wide-open mouths. However, as clients become more confident in search marketing techniques, accept our recommendations, and begin to rank for phrases that they never imagined would bring them new business through search rankings, they are frequently the ones who press us to include long form content on service and product pages as well. Having lots of content that is interlinked with various key pages on the site is extremely beneficial in a variety of ways. This is especially true when the content is lengthy and the links are within paragraphs of text, rather than just menu options or links above or beneath a paragraph that describes the page being linked to. The use of well-written content that explains various aspects of your service or product will increase the likelihood that long tail phrases will find your site significantly. More content-rich pages are also much more likely to be shared on social media platforms, as well as to be linked to from other websites.
4. We Earn And Build Links
Building links has a bad reputation for one primary reason: the shortcuts that thousands of website owners and search engine optimisation companies have used over a number of years to achieve better rankings. Despite the fact that link spamming continues to exist today, it is much less common than it was in the past. As part of our link building process, we encourage website and blog owners to link to a high-quality content 'asset' on our client's website, which we call a link building campaign. As part of our link building process, we encourage website and blog owners to link to a high-quality content 'asset' on our client's website, which we call a link building campaign. We consider citations to be an important component of a comprehensive link-building campaign, and we make certain that citation listings are completed as soon as possible after the start of any SEO work, unless they already exist. Consistency in "Name, Address, Phone" (NAP) and brand mentions are becoming an increasingly important ranking factor for Google (as well as other search engines such as Bing and DuckDuckGo), so it is critical to get this part of link building right.
We have developed 'best in class SEO strategies, we enjoy nothing more than writing a lot of content, and we understand how to harness the power of inbound links. However, we believe that we outperform other digital marketing agencies in the areas of workflow management and operational efficiency. We have developed 'best in class SEO strategies, we enjoy nothing more than writing a lot of content, and we understand how to harness the power of inbound links. However, we believe that we outperform other digital marketing agencies in the areas of workflow management and operational efficiency. We are able to manage client accounts with great precision thanks to a combination of our highly communicative team and our workflow software. We document every action, including the creation of citations, the planning of an outreach strategy, the reporting of a recent increase in Google rankings, and the acquisition of a new link. We also keep track of how long each action took. Clients have the ability to see exactly how much time we have spent on their account, down to the minute. This makes our client services much more efficient, allowing us to devote more time to real digital activity development. A well-informed client is a satisfied client. And a client who is well-informed, satisfied, and whose visitor numbers are increasing is a content client.
Monthly SEO reports, while necessary and indeed important, are reviewed much less frequently at greyzip as a result of the workflow management system and practises that we employ to run our digital agency. In addition to being very informative, our monthly reports contain little in the way of complicated SEO jargon and are easy to read. When it comes to business, we value clarity above all else, and we have never felt the need to over-complicate or inflate our words. Clients are able to see right through it. Nothing makes us happier than knowing which elements of our work have resulted in improved client rankings, increased visitors, and increased enquiries/sales. This is made possible by our close relationships with clients, the fact that all actions are recorded in our workflow software and the useful monthly reporting.
Some FAQs about Technical SEO
Traditionally, the phrase Technical SEO refers to optimising your site for crawling and indexing, but can also include any technical process meant to improve search visibility. Technical SEO is a broad and exciting field, covering everything from sitemaps, meta tags, JavaScript indexing, linking, keyword research, and more.
Does changing your URL affect your search engine ranking?
No matter what, changing your domain name will affect your search engine rankings, largely because each search engine responds differently to such changes, but you can substantially limit the damage done. Google has taken the lead as usual in dealing with URLs that change and will quickly index the new file with virtually no interruption if you follow some fairly straightforward procedures. The critical element in successful URL redirecting (or "domain forwarding") is taking the time to make sure that ALL links to your old page from other websites are updated. That step must be done. Unfortunately, it is the most difficult step, as many links may be on sites that are neglected or even abandoned
Do search engines index ALT text descriptions from images?
Yes, most search engines, including Google, look at your ALT tags when indexing your Web page. For many sites, particularly image-heavy sites, ALT text is one of the few elements available for the search engines to index. If your page has no text at all on it, it can still get a high search engine placement by using ALT text. The overall impact of using ALT tags, in terms of search engine optimisation, is low. As they have become abused (like meta tags ) by webmasters who fill alt tags with streams of keywords, the major search engines have lowered the importance of ALT tags in their algorithms. However, ALT tags are a required element for standards-based HTML coding. Every image must have an ALT tag, and each ALT tag must be properly implemented.
A spider is a piece of software that follows links throughout the Internet, grabbing content from sites and adding it to search engine databases. Spiders follow links from one page to another and from one site to another. That is the primary reason why links to your site are so critical. Getting links to your website from other websites will give the search engine spiders more opportunities to find and re-index your site. The more times they find links to your site, the more times they will stop by and visit. This has been true since spiders began. Recently there has been an incredible amount of attention paid to links. That's because Google came clean and said in public that the number and quality of links to your site will directly impact its rankings in the search results. AltaVista, AllTheWeb, Teoma, and Google all factor in the number and quality of links to your site when giving your site its ranking. Spiders find Web pages by following links from other Web pages, but you can also submit your Web pages directly to a search engine and request a visit by their spider. In essence, that is search engine submission. Because so many millions of web masters have submitted their sites over and over, the search engines have responded by putting more emphasis on sites that their spiders find naturally and less and less emphasis on sites submitted directly. So, being found is better than submitting directly.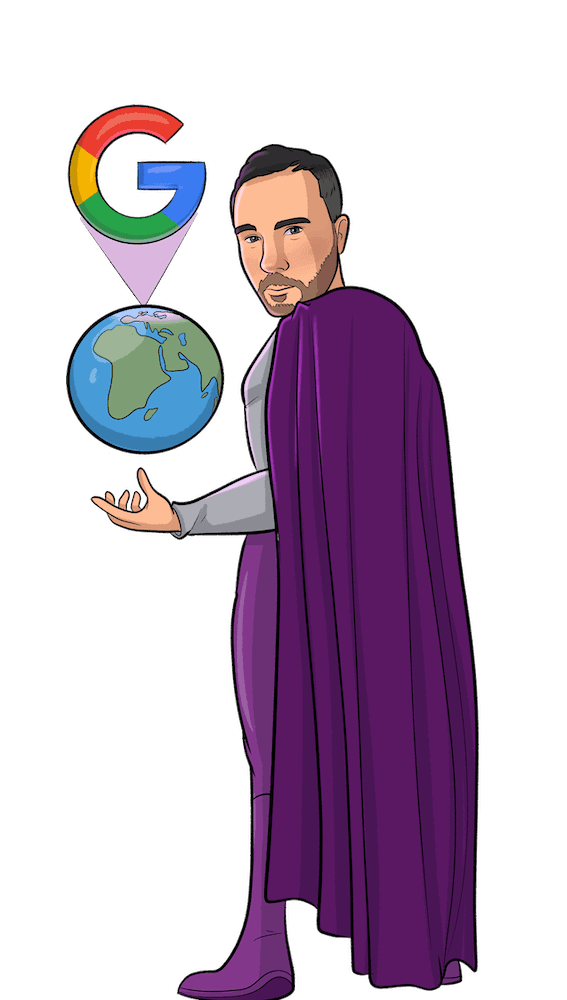 Let's Get You Ranking!
Contact us to speak with one of our experts to see what we can do for your business!